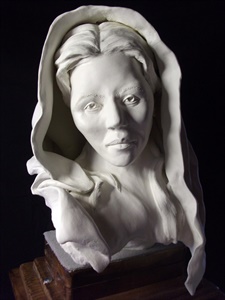 ARTIST STATEMENT
Raised in the Midwest, educated with a Bachelor of Science Degree in biology and a minor in chemistry from Northern Illinois University DeKalb, Illinois, upon graduation moved to Southern California to work as a chemist for several years. Always fascinated with art from an early age, led me to move to Arizona to pursue the art form of glass carving and etching by sandblasting. With a longing to return to the Midwest, settled in the beautiful tranquil hills of the Ozarks in Arkansas to now pursue a passion for portrait sculpting in clay.
Being self-taught but with the help of several books and videos by renowned sculptor Philippe Faraut and other famous artists, my sculptures are done mainly in life size which I think gives a more impressive look. Earthenware clay, because of its plasticity as my medium allows me to manipulate the clay to render a likeness to the individual modeled. The many expressions and gestures in the human face along with certain poses an individual might have, hopefully is captured through the modeling process in clay. To give added significant to the bust, I sometimes add a modeled hand or hand/forearm to the sculpture to further enhance the sculpture. I like to leave the viewer with a self interruption on his own as to the merits of the sculpture.
Upon several weeks of drying, the sculpture is fired in a kiln to a cone 06. The clay after firing now known as terra cotta is cooled completely and then left unglazed or have a patina applied. Subject matter can range form friends, family, famous people, characters in poems and inspirational themes. "Mark Twain" is depicted by his pipe and a characteristic pose, in my "Norman Rockwell" the famous painter is displayed with brush in hand and pipe in mouth, and in my "Lady of Shalott" her beauty is captured upon breakage of a curse upon her. The rose in her hand is a symbol of Divine Love and appreciation. The beautiful poem she represents is written by Alfred Lord Tennyson in 1832. Finally, an inspirational theme presented in my "Ribbons of Hope" with hands displayed reaching for Hope in battling cancer.
In conclusion, inspiration comes from the nourishment within ones own self to develop a graification to create through ones hands and heart a sculpture to be proud of.
Events
April 16, 2015

Art Show " Tour D' Art " Friends of the Paul Weaver Library

Ozarka College, Melbourne, Arkansas

" A People's Choice Award "

April 21, 2016

Art Show " Tour D' Art " Friends of the Paul Weaver Library

Ozarka College, Melbourne, Arkansas

" Showcase Artist Award and First Place People's Choice Award "

May 4 - September 8, 2016

Portrait Sculptures on Display

Integrity First Bank ( main branch ) Mountain Home, Arkansas

Displayed in lobby area

September 1 - 30, 2017

Portrait Sculptures on Display

Arkansas State University, Mountain Home, Arkansas

Displayed at Vada Sheid Community Development Center
Galleries
| | |
| --- | --- |
| Artistic Reflections Gallery | Oxford, AR |